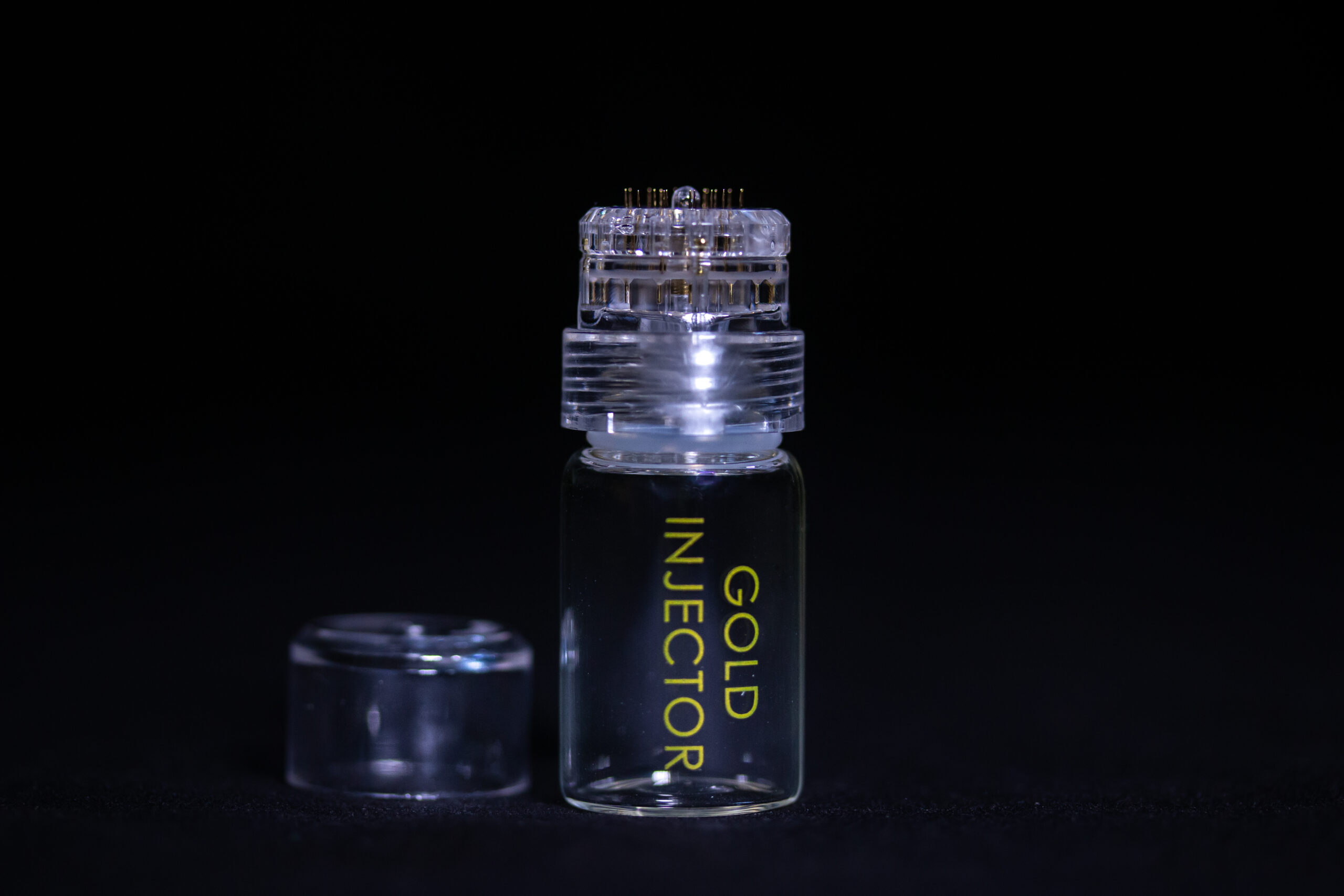 GOLD INJECTOR is a patented applicator that uses microchannel technology to precisely administer your personalized treatments.
GOLD INJECTOR has the proven ability to deliver the desired amount of active ingredients, pain-free, and over a large surface area.

GOLD INJECTOR is a microchannel microinjector. It is designed to effectively microinject therapeutics just under the dermis, at a consistent depth of 1.5 mm. The device features twenty microchannels that contain miniature spiral grooves constructed to micro-dose and microinject therapeutics.

GOLD INJECTOR delivers low dose microinjections using a 24K pure gold-plated surgical-grade stainless steel tip.
GOLD INJECTOR needles are thinner than a human hair. Pure gold on the surface has high bio-compatibility with human skin, preventing irritation and allergic responses after use.
GOLD INJECTOR is the ideal solution for painless treatments on sensitive areas that may require multiple deep injections like peri-oral, neck, hair, décolletage and different body areas.
GOLD INJECTOR is perfect for treating acne scars, keloids, stretch marks, hair-loss, wrinkles.
GOLD INJECTOR Can be stamped over 30 thousand times, without getting blunt.
Product flows consistently
Prevents product loss
Low cost per procedure
Quick absorption
Suitable for all skin types
Individually packaged sterile microinjector and needles
Needles tested by 30000 times of tapping.
Delivering PRP, Growth Factors, hair growth solution and Nano Fat, into the dermis by lightly tapping
Needle Material: 24K pure goldplated surgical-grade stainless steel
Sterile and Individually packaged
Needle Number: 20 needles
Thinner than human hair so it is Painless, No scratch on skin and nonallergenic treatment.
20 pins derma stamp with Medical Stainless Steel
Delivering PRP, Growth Factors, hair growth solution and Nano Fat into the dermis by lightly tapping
Good for the use on sensitive areas (fine wrinkles, eye rim, scalp etc.).
Good for use with a hair restorer or high functional aesthet
Revives the skin cells by providing life-sustaining oxygen
Deeply hydrates and oxygenates dermis and epidermis
 Reduces discomfort of overdried skin (roughness, itching)
Restores the mineral and ionic balance of the skin
Improves skin hydration from the inside out
Activates skin's self-healing mechanisms against UV, pollutions and allergies (supports the skins immune system)
Reduces deep wrinkles and symptoms of photo-aging and sagging
Rejuvenates the skin and improves its complexion
Restores skin firming and elasticity
Gives instant and long-lasting effects!
When screwing the cap into the bottle, be careful not to damage. GOLD INJECTOR is available only for physicians and clinical practitioners
Wondering How To Order Your Devices  ?
Get More Details About Product